I could hear the sound of the rapids ahead as the current of the river pulled us forward against all my instincts to be heading in the opposite direction. We were on the upper West Branch of the Penobscot River on a boy scout canoe and camping trip and I was all of 11 or 12 and about to experience my first quickwater.  It was late July and of course the little rip we were about to run was probably barely quickwater, but I was terrified and to my young mind this was the equivalent of some first descent class V drop and it took everything I had to steel myself and steer us around the little rocks poking above the river as we went thru, watching the bottom whizzing by.   I also however remember the immense feeling of satisfaction after looking back at the rip and thinking Wow…we just put a canoe thru that.
Tucked in with some books I recently found a small orange notebook – it was the one given to us, as Boy Scouts, on our Maine High Adventure trip.   Inside I found a short diary of our trip which I had written along the way — thankfully I had thought to date it — June of 1982.   Despite 31 years passing since then I do remember the trip well, as at the time, it awakened the call of the deep woods and adventure.  We stayed at Canada Falls our first night, and then Pittston Farm  which is now a hotel, but back then was the Seboomook base for Maine High Adventure.  We began at Roll dam — I remember them letting us go over the falls in a life jacket and a helmet — and thinking as I was about to go over that I didn't really want to do this..but it was too late at that point.  I remember opening my eyes and being in a deep channel the sides of which were whizzing by.  Dad tried to run it in a rubber kayak and flipped over and I remember getting ready to dive in when by my timing he hadn't popped up in time and just his felt hat was going down the river.
 We spent the night on the island campsite – here's a pic of Dad on the island;
Moose on the river;
We stayed the next night at Pine Point and I remember taking a canoe out after supper with Rob Campbell to explore the stream that was near the campsite and seeing a huge moose cross in front of us on the way back.  We stopped at the Chesuncook Lake House   and lounged on the grassy bank eating home made bread and root beer.  We then ventured up thru Black Pond and Caucomgomoc stream to portage around the dam at Caucomgomoc Lake where we then went up Ciss Stream to Round Pond.  I remember the portage being really tough and pulling the canoes upstream as well.  At Round Pond campsite we fished off the rock and stunned the chubs we caught to feed the osprey which would come diving down to get them.  Our guide on the trip got some great shots of ospreys.  There was a wild strawberry patch there and we picked a bunch to put in our pancakes that morning.  We then climbed Allagash Mountain to the firetower which at the time was manned and we spent some time talking with the guy there – surrounded by maps and radios.
Our crew from the 1982 trip;
And a subsequent trip in 1984;
This spring I started thinking about perhaps recreating that trip and started casually looking at maps and considering options when I came across probably the only change in that region in all of those years — Loon Lodge.  After I showed Joyce what I had found that sealed the deal and we made reservations to stay there.  We could visit most of the places I remembered from the past and we could also get to Allagash Lake.  Loon Lodge is fantastic – nestled on Round Pond and built in 1984 and the owners are great people.  Shortly after our arrival I had to take a walk down to the campsite we had stayed at – the water level was really low which made it easy — it was just as I remembered it –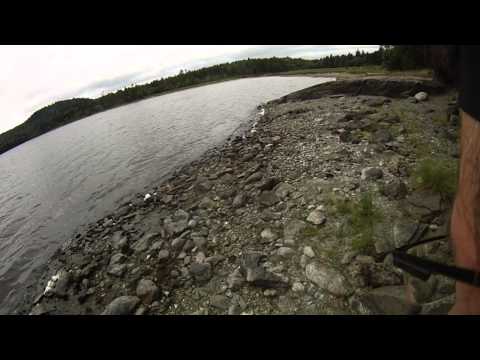 It was rainy and thundering most of the afternoon which was ok – I had a bit of a stomach issue – my guess was the bacon wrapped scallop appetizer the night before – never order seafood inland.  The owners have a couple of dogs, one of which is older and only has one eye.  She abruptly appeared at the door as we were finishing supper so we let her in and pet her for a bit– sun is peeking thru the clouds as it's going down.
I'm up with the sun the next day and get on the water fishing before breakfast.  The white perch are biting with a vengeance and it seems that I catch one with every cast.  An osprey flies up from around the campsite and gives me a circle – I wonder if he's related to the one we were feeding in 1982.
Up to the cabin for bacon and eggs and we head to the portage trail to Allagash Lake to check it out and climb the firetower.  It's funny – I wrote about getting into Allagash Lake several years ago here and I mentioned that I had not been to the carry trail and had not read any accounts of anyone getting in that way.  Turns out I was there in 1982 and it's probably the easiest way to get into the lake.  You can drive most of the way until you get to a parking area and a gate.  From there it is about a mile to the lake on a nice grassy road – we did it with a canoe carrier and it was really easy.  As you get close to the ranger cabin there is a trail off to the right with a sign that says "carry trail"  – this trail comes out to a campsite on the lake but it is rather rough terrain.  The easy way is to stay straight and put in at the ranger cabin where it is a short paddle to the campsite.  We made it to the firetower and the hike is much more strenuous than I remember — the wind is blowing so hard that I don't dare to climb up into the tower this time.  We have an early supper and the lake calms down enough for a canoe – the perch are still biting.
Sausages and pancakes for breakfast and I walk down to the lake for a look around – a moose and baby are feeding on the opposite shore.  A crew is down at the campsite getting ready to leave – I can hear someone say "listen up you guys need to hear this" – I don't envy them traveling on the windy lakes.  We're headed back to Allagash Lake – this time with the canoe in tow.  The wind is picking up steadily and we probably shouldn't be on the lake but this is what we're here to do so trying to make the best of it.  The wind begins blowing crazily and I can't find a lee shore – swirling with 20 + gusts all from different directions.  I get a couple of tappy taps on the rod but nothing serious — we decide to get off the lake a mother and baby moose we see on the way back is worth the price of admission.  The carry trail campsite is very nice and I'll be back to camp here.  We take a ride down to Caucomgomoc dam but I can't find or recall how we portaged around it on our previous trip.   The road is good and we decide to head out that way and go home via Greenville.