"This book is the story of the Nahanni country in the Northwest Territories of Canada and of an attempt to find the lost gold of that little-known land.  The attempt failed, so this must also be the story of a failure – but it was a failure that succeeded in so many other ways that, if life could be entirely filled with such defeats, I for one would never ask for any victory."
R.M. Patterson.
If ever there was a book written about self-reliance, exploration and survival, it is Dangerous River by RM Patterson.   In the mid 1920's Mr. Patterson left a comfortable career as a banker in England to explore the Nahanni  River in the Northwest Territories of Canada prospecting for gold,  and to explore a vast untouched wilderness.    Today the river is part of a Canadian National Park, and they run guided raft trips down the amazing river.
What a sight, and life it must have been for RMP.  His exploration and description of river life is recanted in very well written detail.   He was there for adventure and gold prospecting, and although he didn't find any gold, he did find lots of adventure exploring, cabin building, wintering over, hunting and trapping.  He also was interested in the legends and mysteries of the region.  Tales of lost gold and haunted valleys emerged after two headless corpses of prospectors (Willie and Frank McLeod) were found in the region and the legend was bolstered by the mysterious deaths of other prospectors.  The McLeod brothers had gone up the river in 1906 in search of gold with a third partner, Bobby Weir whom they had convinced to break his contract with the Hudson Bay company to join them in a search for gold.   The trio never came back in the fall, and relatives assumed they were wintering over, and would be back in the spring.  When they again did not return, a search party was sent out, and the headless skeletons of the two brothers were discovered.  Rumors soon circulated that they had found the mother lode of gold, and had been killed by the other member. No one knows whatever happened to Bobby, but a Native hunting party found a decomposed body a year later about a half a mile away from the brothers bodies.  In neither case did the Royal Mounted Police conduct an investigation.   Other mysterious deaths followed bolstering the legend of the area.  A prospector by the name of Martin Jorgensen was found a few years later beside the burnt remains of his cabin along the Flat River.   John O'Brien, a trapper, was found with matches still held in an icy grip next to an unlit campfire, frozen to death, and several others.
The McLeod Brothers
Testament to the legends  can be found in the names of the regions along the river; Headless Range, Deadmen Valley, Headless Creek, and Funeral Range.
There are three stories within the book that I find fascinating – the first being Hells gate rapid, also known as  the figure eight rapid, and the original native translation – the rapid that runs both ways.
As described by RMP;
"The mass of water was hurled clean across the river in a ridge of foaming six foot waves, to split on this point of rock on the right bank, thus forming two whirlpools, the upper and the lower.  It would be equally difficult, one could see, to run this rapid either upstream or downstream."
The author contemplates for a while, puts his gear on shore for fear of losing it in an upset, and then tries to run the rapid that goes both ways.  He fails, and tries twice more before coming to terms with the fact that he is not going to make it.  So, what does our intrepid banker do next?  He takes out his ax, and cuts a portage trail around the rapid, finishes and portages everything by nightfall.   I consider myself to be rather persistent about exploring, and finding a way to get where I want to go, but I'll be damned if I've ever hacked out a portage trail with an ax to get around a rapid. RM Patterson is a person of an ilk that isn't made anymore.   He was tough, and I admire that greatly.
Here's a helmet cam video of fourth canyon rapid on the Nahanni.  Remember that RMP would have been in a wood and canvas "freighter", not the composites of today that can take the punishment this type of water can dish out.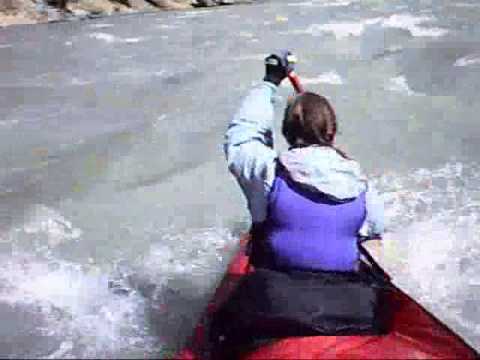 The story of building the cabin with  woods partner Gordon Mathews, and the adventures there and on the winter trapline make you feel like you are there with them on the adventure.  As does the other story I was impressed with – RMP's  winter exploration of the Meilleur river.   Camping in temperatures of -40 and -60 he explored the canyon.   His description of the cold can make you shiver as you sit next to a hot  woodstove at night.
The third adventure whose story I am fascinated with is the trip from the cabin to Fort Simpson.  After celebrating Christmas early in the cabin, Gordon was to go to Fort Simpson for the year's mail and some trapping supplies.  Sounds like an easy trip – except that Fort Simpson was 200 MILES away.  Can you imagine?  When was the last time you strapped on a pair of snowshoes or a dogsled team in the Northwest Territories winter, and went 200 miles one way to get the mail?  After a false start, Gordon final gets going on the trip, and RMP plans to spend a month alone.   Time passes, and Gordon is overdue to return.  RMP waits it out for a few days, and then becomes more worried about his friend, and finally decides to strike out for Fort Simpson to hopefully find him, or at least get news of him.  Our intrepid banker goes on foot with snowshoes.  The trip is hellacious and full of trial and misery.  As RMP describes in part; "The stretch of trail from Ram Creek past the little Butte and down onto the cache riffles was the nearest thing to hell on snowshoes that I have ever struck.  There was a three inch crust on top of the drifts, but it was not strong enough to hold a man on a five foot shoe, still less to take the pull and heave of a man with a heavy pack climbing out of a hole in the snow.  For it was into a hole in the snow that you fell when you broke through that crust-you were in up to your waist and your next step was on a level with your belt."   200 MILES!   I would have keeled over after 10 of this kind of travel. Blizzards, heavy winds, and -40 temperatures.
After all, as RMP  says, At this time the Nahanni legend was in full flower: this was Deadmen Valley, from which no traveler was confidently expected to return, and men said good-bye to you at Fort Liard or Fort Simpson and wished you the best of luck, much as one might shake the hand of a man about to mount the scaffold, wishing him a pleasant visit and a speedy return.
After much trial and tribulation RMP makes it to Fort Simpson in one piece.  Shortly after he arrives an unrelated Royal Canadian Mounted Police  patrol arrives at the Fort as well, and Gordon was part of the patrol.  RMP recounts the ensuing conversation between them;
"Gordon here tells me that you've just broken trail for us all the way from South Nahanni, and you traveled alone?"  "Yes". "Well, shake hands again!  And let me tell you this – if you're ever overdue or in any trouble up in those mountains of yours, don't count on the police sending a patrol to look for you.  After this solo trip of yours we'll just figure that you're alright where-ever you are and that you will show up sometime!"
I can imagine the swell of pride that I would feel receiving such a comment from a dyed in the wool man of the woods.  RMP describes it as "One of the greatest compliments I've ever had paid to me." Indeed.

Here are some nice shots of the Nahanni;